Furnace Maintenance & Service
Furnace Service and Repair
A.J. LeBlanc Heating provides award winning furnace service. Our knowledgeable service professionals can fix the most stubborn furnace issues all while offering the highest level of customer service. A.J. LeBlanc Heating does not have commissioned technicians so they will never sell you something you do not need. If you are experiencing furnace issues we suggest that you shut it down and call us immediately. Our experienced HVAC technicians will solve your furnace problems quickly which means you will save drastically on labor costs. If you require emergency furnace service you can contact our on-call technician at 603-623-0412.
Furnace Maintenance, Cleanings & Tune-ups
A.J. LeBlanc Heating's service technicians are licensed HVAC professionals. Our HVAC technicians are proficient in the maintenance of all residential furnaces and forced hot air systems. In order to ensure efficient operation we recommend that homeowners have their oil furnaces or gas furnaces cleaned at least once per year. Regular furnace cleanings increase operating efficiency and reduce the risk of a more costly furnace service call.
Furnace Maintenance Routine
Furnace cleaning - return the furnace to factory fresh condition. (Gas & Oil Furnaces)
Inspect all system components - helps prevent unexpected repairs and breakdowns. (Gas & Oil Furnaces)
Preform a safety inspection of your furnace, flue, venting and draft assembly. (Gas & Oil Furnace)
Preform a CO Test & a Digital Computer Combustion Analyzer Test (Gas & Oil Furnaces)
Check for CO leaks at furnace (Gas & Oil Furnaces)
Check all furnace electrical components and electrical connections (Gas & Oil Furnaces)
Check all safety sensors and switches (Gas & Oil Furnaces)
Check gas components, gas connections and gas pressures (Gas Furnaces)
Check all modes of thermostat operation (Gas & Oil Furnaces)
Clean and sanitized blower section (Gas & Oil Furnaces)
Clean flame sensor rod (Gas & Oil Furnaces)
Service humidifier (Gas & Oil Furnaces)
Replace Air filter (Gas & Oil Furnaces)
Common Furnace Issues
Tripped Breaker (Please verify before you call us)
No Oil (Please verify before you call us)
No Gas (Please verify before you call us)
Dead Thermostat Batteries (Please verify before you call us)
Cracked Heat Exchanger
Dirty Air Filter
Clogged Oil Filter or Oil Line
Failed Oil Burner
Failed Gas Burner
Failed Thermocouple
Failed Power Venter
Failed or Tripped Safety Switch
Failed or Clogged Condensate Pump
Improper or Shorted System Control Wiring
Improper or Shorted System Power Wiring
A.J. LeBlanc Heating's Furnace Installations
Our Furnace Installations
Gas Furnace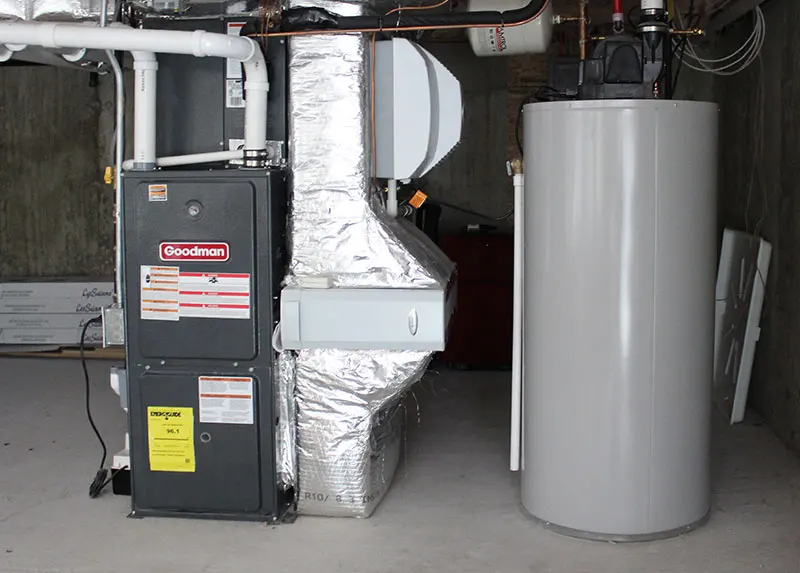 Rheem Furnace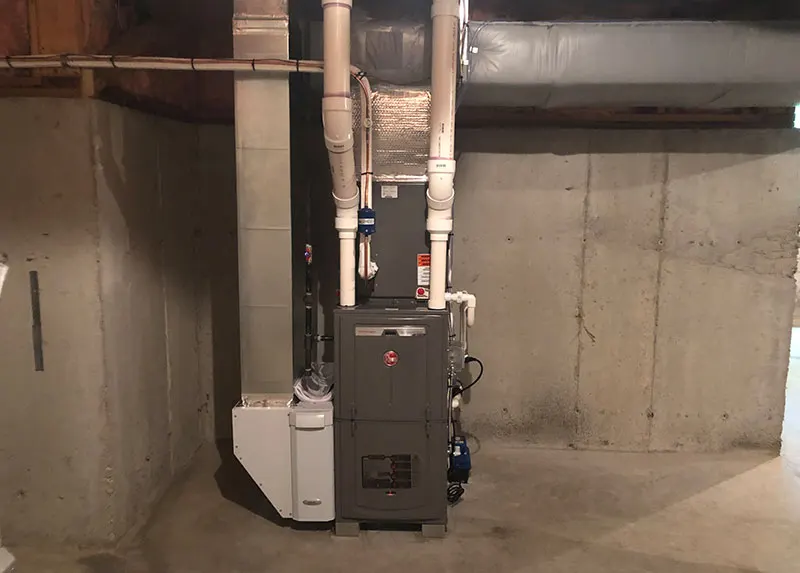 Oil Furnace